The Regional Center for Independent Living (RCIL) has a long history of opening doors for people with disabilities in Rochester, NY.
It all started in August, 1966, when Governor Nelson Rockefeller came to the Rochester War Memorial to be nominated by the Republican Party for another term as Governor of New York. On that day several Rochesterians with disabilities were there to meet him.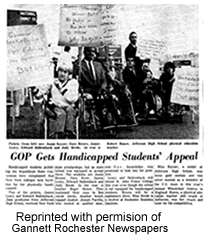 This small group consisted of the founders of the Organization for Accessible Buildings, later renamed Handicapped Independence H.E.R.E.(Housing, Education, Recreation, and Employment), Inc., the Rochester Center for Independent Living, and now the Regional Center for Independent Living. They were high school students who had found that all the campuses of the State University of New York, which had been greatly expanded and improved by Governor Rockefeller, were inaccessible to disabled students. They carried picket signs at the War Memorial when Rockefeller arrived, asking him to make the State's campuses accessible, and they were able to speak briefly with him.
It was, at that time, unheard of for disabled individuals to take up picket signs and go out and stage a public protest. In those days, disabled people were supposed to hope for, and be grateful for, the good things done for them. They were expected to try to "overcome" their disabilities, to adapt to the world as it was, but not have too-high expectations. Only the least severely disabled could ever hope for an independent, productive and fulfilling life.
But the young protestors at the War Memorial had decided to take control of their own lives, and try to change society. They were encouraged and inspired by the example of Black Americans who were breaking down the barriers of segregation. They created the Organization for Accessible Buildings (OAB) to concentrate their efforts on making public buildings accessible.
An early victory came in 1967, when OAB worked with other community groups and City Council members to change the City building code to require new buildings in the City to be accessible.
Often, however, OAB was confronted by ignorance, and by some hostility. Most Rochesterians had never seen any adults who were disabled making their way in public places, and they didn't quite believe there really were any such people who would want to go shopping, or to a restaurant or a movie. There was some bigotry some restaurant owners who were afraid their patrons might be made uncomfortable by customers who were disabled, and theater owners who thought people in wheelchairs were hazards in case of fire. Downtown merchants said they never saw anyone in a wheelchair in the area, and therefore making their stores accessible was unnecessary.
These attitudes provoked a new determination. OAB members decided to target City Hall. The seat of government, they believed, ought to be accessible to and usable by all citizens. A petition drive gathered 9000 signatures from Rochesterians who supported the idea of ramping the entrance of City Hall.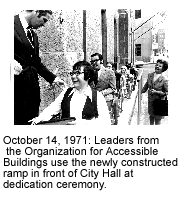 In April, 1971, OAB members had themselves carried up the City Hall steps in their wheelchairs to make their point and to present their petition at a City Council meeting. The Council agreed. By the end of the year, City Hall had a ramp, dedicated at a ceremony by the Mayor and OAB leaders.
The next year, OAB held a "Handicapped Awareness Week" and received favorable publicity when several City and County officials participated in a tour by wheelchair of downtown to learn first-hand the problems wheelchair users face in a barrier-filled world.
The local Easter Seal Society, which had published a small guidebook of the few accessible public buildings in the area, began to give OAB modest annual grants. OAB used the money to pay for wheelchair-mobile service to enable its members to attend meetings and social events. There was then no public transportation at all for anyone who could not use the standard buses.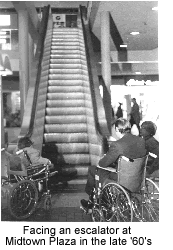 OAB tried to help disabled adults who had been left out of the educational system. At that time, there were no laws guaranteeing quality public education for disabled children, and no mainstreaming. One could be turned away by one's school district, or be provided with a segregated, and too often, mediocre program of "special education." Those who were most severely disabled received very little education.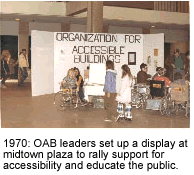 OAB used a large portion of its Easter Seal grant to provide transportation for its members to a special tutoring program set up in cooperation with the Rochester City School District. The tutor, paid by the District, provided Adult Basic Education classes for severely disabled adults who had not been given even an adequate grammar school education. Later, OAB members worked with school administrators who pioneered in mainstreaming disabled students at School Number 29.
In 1972, OAB changed its name to Handicapped Independence through Housing, Education, Recreation and Employment, Inc., and became known as HIH. The name reflected the fact that barriers to the disabled were attitudinal as well as architectural.
HIH worked for curb cuts, and for changes in state and local building codes to require accessibility. It opposed a planned housing project that would segregate disabled tenants, and advocated for accessible units within all apartment complexes.
It worked for state-wide handicapped parking permit legislation, and for including a ramp in the rebuilding of the entrance to Rochester Public Library's Rundel Memorial Building, which was accomplished in 1977. The same year, HIH demonstrated at the Federal Building as part of a nationwide effort to urge President Jimmy Carter to issue regulations to enforce Section 504. Later, some HIH members picketed the office of OVR/VESID (Vocational and Educational Services for Individuals with Disabilities) on Andrews Street, pointing out that this agency was located in an inaccessible building.
The organization began to publish a newsletter on a regular basis in 1973, to inform members and friends about activities and issues, and to make itself known to government and community leaders. It held "rap session" discussion groups, informed people about laws, and directed those who needed help to the proper agencies. It urged the creation and expansion of paratransit services in Rochester, and later took a more controversial stand in favor of accessible fixed-route buses.
But a small group of volunteers could only do so much, and rent-free office space in other organizations' offices was unstable and unsatisfactory. To do the work of general and individual advocacy that was needed, HIH had to have a permanent office and staff.
HIH's application in 1977 for a City Community Development grant to establish and staff an office was unsuccessful, but much was learned in the process. It was often easier to get a grant for a specific project, and so HIH applied for, and received, a Federal C.E.T.A. grant to fulfill a long-time goal to hire a full-time coordinator for a survey of public buildings, and publish an accessibility guidebook. An HIH member, a disabled individual, was hired for the position. Another grant, from the Daisy Marquis Jones Foundation, paid transportation costs for disabled volunteers to come to the HIH office at Monroe Developmental Center to assist on the project. In November, 1978, the "People's Accessibility Guide" was published.
Shortly after this, HIH was able to transfer its Adult Basic Education students to a similar program of the United Cerebral Palsy Association. It used the Easter Seal grant money thus freed to rent a small office at Plymouth Park West, in the Corn Hill District, and to hire a part-time secretary.
In 1978, Congress passed Title VII legislation that provided Federal funds to establish independent living centers. HIH leaders saw that this type of funding would enable the organization to do the kind of work it had hoped to do information and referral, community advocacy, peer counseling, and other services to assist disabled individuals who wanted to live full and independent lives. HIH's "disability rights" roots fit well, it was thought, with the independent living concept. HIH applied for and received one of the first independent living grants in New York State, and opened its program in October of 1979.
Many people contributed toward creating OAB/HIH, and keeping it functioning to serve disabled Rochesterians. The leadership of Donna Ferri Leary, James Leary, Joseph Parella and Patricia Laird ought to be particularly noted.
RCIL exists today because many years ago some disabled Rochesterians and their able-bodied friends decided that they would not accept things as they were, that they would go out and do something about the problems, and because after that they and their successors continued to try to make things better. It is a history for RCIL to be proud of and to seek to live up to.