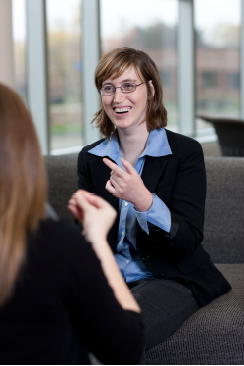 ALICE WAS BORN WITH CEREBRAL PALSY.
SHE'S ALSO DEAF. THANKS TO RCIL, SHE'D LIKE TO MAKE YOU DINNER.
For some people, cooking is a chore. But not for Alice. Macaroni and cheese, mashed potatoes, pancakes – bring it on. And she cooks it all with one hand.
"As a child I never had to cook or do laundry or other household chores for myself, so becoming independent was a daunting challenge," she said.
One of Alice's primary goals was to make her home a place where she could live independently, and learning to cook was high on her list of priorities. Erin (Alice's Independent Living Specialist) worked with Alice to find creative solutions to challenges in the kitchen.
Alice moved to Rochester very much alone in 2007. But by her second year here, she had secured her own apartment, and three years later she graduated with a certificate in deaf studies from the Rochester Institute of Technology. It's been a long journey, but the reward has been great. Today she is a confident young woman living with a great deal of independence, and she'll be the first to tell you she couldn't have done it without the Regional Center for Independent Living.