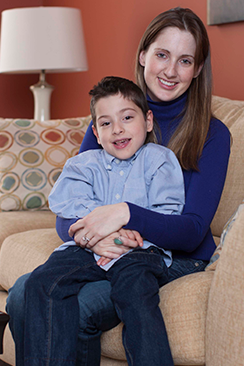 DREW HAS CEREBRAL PALSY, AND HE'S NEVER BEEN ABLE TO WALK.
BUT THANKS TO RCIL, HE'S LIVED EVERY MOMENT OF HIS LIFE AT FULL SPEED.
Being born that early and weighing less than two pounds caused Drew to have a brain hemorrhage – which led to the development of cerebral palsy.
His mother, Kristin, is employed as a nurse and has worked with countless numbers of patients with disabilities, "but it's completely different when it's your own family," she said.
Drew's cerebral palsy left him with very little motion in his body, which left his parents struggling to find safe ways to transport him. "We needed a fully accessible van," Kristin said. It was difficult for Drew to bend to get into a car seat, and so their van needed a wheelchair life. "RCIL helped us get an advocate, and thanks to that individual we received the funding we needed to purchase and install the lift. It was awesome."
"We're lucky we get to focus on enjoying whatever we're doing with Drew now, instead of worrying about how we're going to transport him," Kristin said. "I can't even imagine what life would be like without all the help we've received from RCIL".