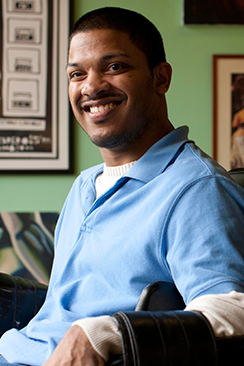 RAJIV IS A DEAF QUADRIPLEGIC
WITH A GREAT JOY FOR LIFE, AND ONE VERY AGILE TOE.
By all accounts, Rajiv Roots is your typical 25-year-old. He loves Wayne's World, his flat screen television, and the UConn Huskies. His face lights up when you ask him about his favorite football team (the New England Patriots), and in an instant, the big toe on his left foot whirrs across the keyboard as he smiles and presents the word "champions" on his computer screen.
The speed with which he can type with one toe could rival the fingers of a text-obsessed teen.
It wasn't an easy fight. Rajiv spent over five years defending his desire to live on his own before he decided to call RCIL to guide him in his advocacy. With RCIL's assistance, Rajiv is able to maintain services from several other agencies, including assistance with transportation, accessibility, and personal care aides, on top of trying to continue his education and gain steady employment.
You'd be hard pressed to find someone with a more uplifting spirit than Rajiv. His outlook on life rings true at least in part due to the efforts of the staff at RCIL:
Anything is possible and everyone can do it. Don't take no for an answer.