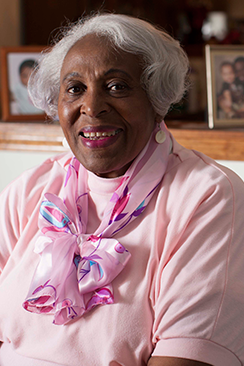 IRIS LOVED HER HOME.
UNFORTUNATELY, SHE FEARED SHE MIGHT HAVE TO LEAVE IT.
But of course there's a happy ending: RCIL was there when Iris was running out of options. They visited Iris in her home and assessed the two-story floor plan and her inability to navigate the stairs indoors and out. "RCIL was there for everything," she said. "Without them, I don't know how much longer I could have stayed here."
The 100%-accessible housing was made possible by the ACCESS to Homes grant that RCIL helped her get. Through RCIL, Iris also found people who wanted to assist her grandson Rasheem, who uses a power wheelchair to navigate the home.
Iris's house now has a completely flat floor plan, which helps her to move throughout it easily, and to enjoy life to its fullest with Rasheem.
"The kitchen is my favorite place," Iris laughed. "I call him the magic chef. He loves to cook, and he can really get around," she said.
And thank to RCIL, so can Iris.